10 Amazing Facts You Might Not Know About Secretariat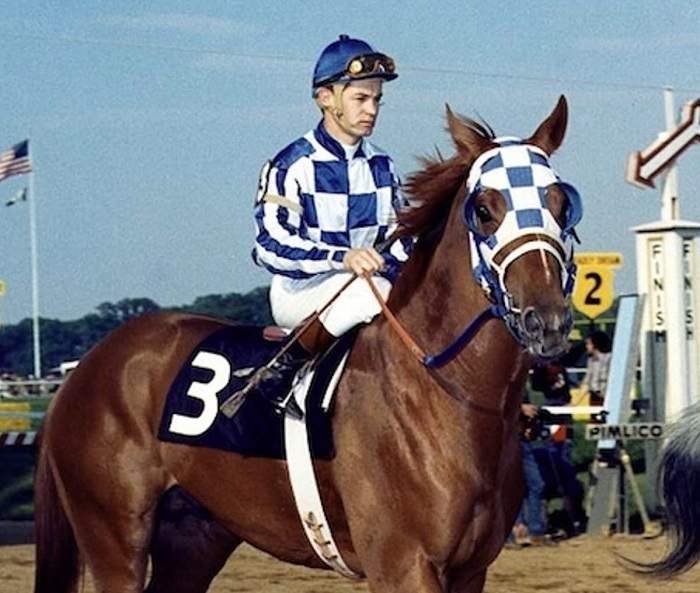 Unique facts and rare stories about Secretariat the horse.
In the highly competitive world of horse racing, Secretariat is still known as one of the greatest and fastest horses that ever lived. Foaled in 1970 in The Meadow, Caroline County, Virginia, this outstanding Thoroughbred took part in 21 races throughout its career. He won 16 of those races, but most importantly, he was the first-ever horse to win the Triple Crown in 25 years.
Today I'm going to share some of the least-known facts about Secretariat – his lesser-known achievements and particularities. Secretariat was an exceptional horse, gifted even, but most people only remember him in light of his racing prowess. Secretariat has led an exciting and beautiful life, and it's time we had a closer look at it.
1. Secretariat didn't live very long.
When it comes to horse lifespan, the average a horse is expected to reach is around 25 to 30 years old. I detailed this further in my separate article about horse age, which you can look up right here if you're interested. As for Secretariat, he only got to the age of 19, which is quite a bit below average even for a Thoroughbred.
During the final year of its life, Secretariat became afflicted by a condition called laminitis, which is quite painful and debilitating. The disease affects the hoof of the horse, and since horses spend most of their lives standing up, the condition was gravely affecting Secretariat's quality of life.
Its owners decided to have him euthanized on October 4, 1989. He was 19 years at the time, and if he hadn't been sick, he probably would have lived much longer.
2. He didn't show much promise as a stud.
As far as Secretariat's stud career goes, he didn't show much promise at first. Shortly after horses retire from racing, they begin their careers as studs, and many of them often sire hundreds of horses before they pass away. In Secretariat's case, it was discovered that his sperm showed some signs of immaturity.
Therefore, he mated with three non-Thoroughbred mares in December 1973 as a fertility test. One of those mares was an Appaloosa named Leola, who produced Secretariat's first foal in November 1974. That foal was named First Secretary, and he boasted a beautiful chestnut coat like his sire, as well as spots borrowed from his dam.
In 1975, Secretariat's first foal crop included 28 foals. The most remarkable at the time was a horse named Dactylographer, who won the William Hill Futurity in October 1977. Overall, Secretariat officially sired 663 named foals. Out of those, 341 needed up winners, and 54 were stakes winners.
The problem is that Secretariat did not produce male offspring of his own ability. Many have taken to criticize his stud career because of this, especially since he did not leave a leading sire son behind.
3. His debut race went poorly.
Even though he ended up becoming one of the best racehorses in the world, Secretariat's debut race went rather poorly. The race took place on July 4, 1972, at the Aqueduct Racetrack. The catalyst for trouble was a horse named Quebec, which cut in front of the field. The cut resulted in a chain reaction that eventually ended with Secretariat being bumped pretty hard.
Jockey Paul Feliciano said that a less strong horse would have fallen after that hit, but Secretariat was strong and kept going. He recovered much of his lost ground but ran into traffic at the backstretch. At the top of the stretch, he was tenth, and he managed to make an outstanding recovery, eventually ending the race in the fourth position.
In many of the following races, Secretariat stayed a bit back at the start. This was probably because of the ugly hit he received in his debut race.
4. His daughters produced incredible sires.
Even though Secretariat did not produce a leading sire son, his daughters made up for this shortcoming. They produced 24 Grade/Group 1 winners, which boosted Secretariat's own prestige. Indeed, in 1992, he became the leading broodmare sire in North America. Some of his most notable daughters include Terlingua, the dam of Storm Cat, as well as Weekend Surprise – dam of A.P. Indy.
Some of his most renowned broodmare sire offspring include Secrettame, Betty's Secret, Six Crowns, Sister Dot, and Celtic Assembly. Even today, some of Secretariat's daughters are still being discovered, thus contributing to this horse's outstanding reputation.
5. There are 5 Secretariat statues in the world.
The very first notable statue of Secretariat was erected in 1974 at the behest of Paul Mellon. The statue was created by John Skeaping, and it was named Secretariat in Full Stride. It remained in Belmont Park all the way until 1988 when it was swapped for a replica. The original was delivered to the National Museum of Racing and Hall of Fame. It is a beautiful life-size statue that truly does the horse justice.
Next, we have the two statues in Kentucky Horse Park. One of them was created in 1992 by Jim Reno, while the second was presented by Edwin Bogucki in 2004. The first statue shows the famed racehorse as an older sire, while the second one depicts him being led into the winner's circle after the Kentucky Derby.
There's also a statue of Secretariat at Grand Falls, New Brunswick, which was unveiled in 2015. This statue actually depicts both the horse and Ron Turcotte as they cross the finish line at the Belmont Stakes.
At the time of writing, the most recent statue of this legendary equine is the one unveiled on October 2, 2019, at the Secretariat Festival in Keeneland,4 Lexington. Created by Jocelyn Russell, the bronze statue depicts the horse and its rider winning the Kentucky Derby.
6. He exhibited equine physical perfection.
Secretariat was a fantastic racehorse mostly because his physical attributes were off the charts. Even in the early days of his life, Secretariat exhibited signs of greatness. Later, he became incredibly well-balanced, and his chest became so large that it required a custom-made girth.
Some trainers even went so far as to call him the "perfect horse." He truly exhibited equine physical perfection, and it showed in his amazing racing prowess. Apart from his large chest, he also had well-muscled hindquarters. He had no major conformation flaws.
As a two-year-old horse, he was perfectly suited for racing, and by the time he was three, his gait smoothened out as his body matured further. The secret behind Secretariat's speed and endurance had everything to do with his powerful hindquarters. To be more specific, his hind legs were able to reach far under himself, thus increasing his drive.
7. Secretariat had 3 white socks.
One of Secretariat's most recognizable traits is represented by his three white socks. He had those socks at the time of his birth, and they never really went away as he matured. They gave him a unique look, and they allowed him to stand out from other racehorses.
Officially, the "sock" trait in horses represents a white marking that extends higher than the fetlock but not as high as the knee or hock. These markings are sometimes called "boots," and they are moderately frequent in the equine world.
Apart from his socks, Secretariat also had a facial marking: a star with a narrow stripe.
8. He couldn't race legally past the age of 3.
Secretariat was allowed to race only until the age of three due to financial circumstances. When Christopher Chenery, the founder of Meadow Stables died in 1973, the tax debts on the farm were carried over to his daughter Penny. While she briefly considered selling the horse in order to get out of trouble, she eventually decided to syndicate him with the help of Seth Hancock of Claiborne Farm.
She sold 32 shares worth $190,000 each for a total of $6.08 million, which became a world record at the time. Penny retained three shares and enjoyed complete control over the horse's racing career. However, she also agreed to end that career at the end of his third birthday.
9. Secretariat was buried whole.
While tradition dictates that only the head, heart, and hooves of a winning racehorse are buried upon its death, Secretariat was actually given the honor to be buried whole. He was buried at Claiborne Farm in the fall of 1989. You can visit his grave to this day, located in Paris, just outside Lexington.
The grave is in a small and unpretentious horse cemetery, past two brick pillars with granite roosters atop them. Fans of the great racehorse often leave flowers, peppermints, and apples on the gravestone, which is adorned with simple markings. In all likelihood, Secretariat would have deserved a more imposing headstone. However, being buried whole is still regarded as quite an honor even in this day and age.
There's even a movie inspired by Secretariat's life. You can find out more about it in my article about the greatest horse movies ever made.
10. His heart was enormous.
Upon his death, a doctor named Thomas Swerczek, the head pathologist at the University of Kentucky, performed the necropsy. What he found shocked him deeply, as Secretariat's heart was 2.5 times larger than that of an average horse. While the doctor did not weigh the heart, he estimated it at 22 pounds (10.0 kg).
Some Thoroughbreds are known to have incredibly large hearts. This trait is linked to a genetic condition known as the "x-factor," which is passed down rarely in some inheritance patterns. The x-factor traces its roots to a horse named Eclipse, which passed it down further through its daughters.