These Are the Best Horse Brushes of 2022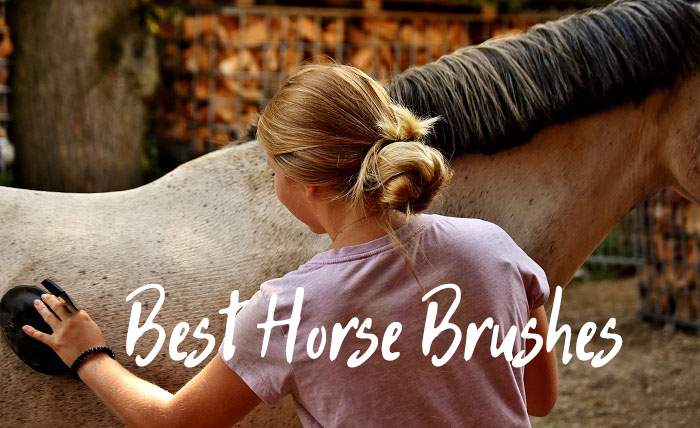 Horse brushes are some of the most important items in your horse grooming kit. Brushing a horse is a great way to spend some extra time with your equine friend while looking after its comfort and appearance. I like to think that brushing my horse is as relaxing for me as it is for him, but that's because I tend to use high-quality products designed specifically for the task.
Some horse owners just groom their horses using conventional brushes they find lying around, and as long as they're not too rough, they can get the job done to some extent. However, if you want your horse's coat to look its best, you're far better off going for a brush that was designed specifically for horses. Things like the material of the brush, its bristle density, and even the overall size of the brush can make a huge difference when it comes to achieving a great result.
Furthermore, a horse brush can save you quite a bit of time if you're in a hurry, as it will always be much more efficient at removing dirt from your horse's coat when compared to a regular one. The best horse brushes are not even that expensive, and you can use them for months or even a few years without having to replace them.
It's worth noting that some of these brushes were designed specifically for the tail and mane, while others can be used for the coat in general. You can also use curry combs, sweat scrapers, and grooming gloves for a complete and thorough grooming process.
Below you will find some of the best horse brushes available right now. If you'll keep on reading, you'll surely find one that suits you and your horse's needs.
1. SleekEZ Original Deshedding grooming tool.
Advertised as the world's first patented de-shedding tool for pets, SleekEZ is actually a very promising product that could very well replace a conventional horse brush. It comes in different sizes for different pets, so obviously I'd suggest going for the Large 10-inch variant if you're about to use it on a horse.
The grooming tool features a uniquely designed Wave Pattern Blade that brushes away loose hair and dirt without snagging or damaging the horse's skin. As you groom, the loose hair and dirt will gather along the blade and will eventually fall off on the ground.
The product is created in the United States, and it features an oval design as well as a premium-grade poplar wood build. As for the blade, it was put together from high-quality stainless steel.
While I wouldn't necessarily recommend it as a replacement for a regular brush, you should definitely add this tool to your horse grooming kit. According to some of the reviews I've seen, it really does work very well.
2. Reversible Stainless Steel Curry Comb by Both Winners.
Simple in design yet incredibly efficient, the reversible stainless steel curry comb by Both Winners is widely appreciated by horse owners from all over the world. Ideal for cleaning the horse's body of any loose hair and grease, the comb also works very well as a regular brush.
The teeth are strong enough to last for ages, and the ergonomically designed handle adapts to your hand for a perfect grip. The comb is also reversible, which means that you can use one side for softer brushing and another for more heavy-duty work such as removing tough hair and mud.
There are four colorways available for this curry comb, namely blue, purple, green, and red.
3. Oster ECS Stiff Grooming Brush.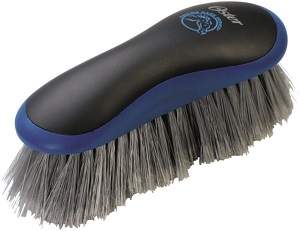 Just as its name implies, the Oster ECS Stiff grooming brush was created to remove dirt from your horse's coat with minimum effort on your part. It has densely packed coarse bristles that are ideal for removing dried up dirt from the coat. However, in order to obtain a nice shine and a smooth finish, you should probably follow up with a softer brush.
The Oster ECS fits nicely in your hand and offers a secure grip. According to the manufacturer, the handle has an innovative design that will fit hands of all sizes. Available colorways include blue or pink. More color choices would have been nice, but you won't be disappointed performance-wise, at least.
4. J.T. International 68-14-0-0 Horse Brush.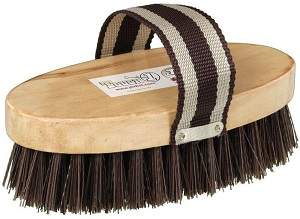 This horse brush by J.T. International is a cheap and readily available solution to your horse-caring needs. It's a simple brush with a simple design, but it does a great job of keeping your horse clean and healthy. You can use it to groom the coat on a regular basis in order to remove dust and achieve a nice shine.
The brush does not cause any harm to the horse thanks to its medium bristles, but keep in mind that this is a horse body brush, not a face brush. For the face area, I'd recommend something a bit softer still.
Other highlights of this horse brush include a wooden handle and a hand strap, both of which will improve your own comfort while brushing. There is only a single available colorway from what I can see, namely a light and dark brown combo.
5. Tough-1 Horsehair Brush.
This offering by Tough-1 is actually a soft velvety horse brush that can be used as a finisher or as a dedicated face brush. It comes with a premium wooden handle and with 1 1/2″ deep horsehair bristles that do a fine job at removing dust particles from the horse's coat.
It's a great brush for horses that react poorly to grooming. Don't expect it to remove old dirt caught up in the coat, as the bristles are just too soft for this. For a medium brush or a finishing touch, however, you'll find that it gets the job done nicely. Actually, this is one of the best horse brushes I've used in a long time.
6. Horze Horse Hair Dust Brush (Best Horse Dust Brush).
The Horze hair dust brush is a great grooming accessory if you're looking for something to help you remove fine dust particles from your horse's coat. It's mainly a flick brush, which means that you'll need to use it in a flicking motion for maximum effect.
The results are impressive, though – the coat is shinier and healthier looking once you're done with it. Obviously, you'll need a rougher brush to clean up the dirt from the coat first, and you can use the Horze afterward for a finishing touch.
One thing to note is that the brush will shed a bit as you take it out of the box, but it will perform admirably once those extra hairs are out. The handle is wooden, which I've always liked, and the bristles are long and soft – perfect for flicking out dust.
7. Tough 1 Great Grip Mane and Tail Brush.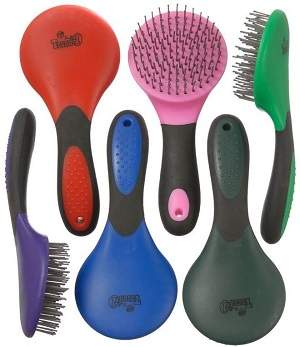 The main thing I liked about this brush is that it helped me get through the horse's mane and tail very quickly. The bristles have rubber tips, which means that they don't rip the hair, while the handle comes with a nice ergonomic shape and a few massaging bumps for improved comfort.
There are numerous colorways to choose from, including red, pink, green, blue, and purple. Even though the image might lead you to believe that the bristles are metallic, they are actually plastic, but a durable one.
This isn't the most expensive mane and tail brush out there, but it will get the job done if you give it a chance. It's lightweight and comfortable to use, but it's not necessarily the most durable in the long run.
8. Wahl Professional Animal Equine Horse Grooming Brush (Best Horse Mane & Tail Brush).
This horse grooming brush was designed specifically to untangle your horse's mane and tail. Professionals use it to prepare horses for braiding before various shows, but you can just rely on it for regular horse grooming and hair maintenance.
The Wahl Professional animal equine horse grooming brush features a patented ergonomic design that includes a comfortable rubber grip as well as plastic pin bristles that are surprisingly durable. As with most horse brushes, this one is not particularly expensive yet it will get the job done for many months to come.
The brush is a part of an extensive hair grooming kit by Wahl, which includes a mane & braiding comb, a metal shedding blade, a rubber curry, a stiff body brush, and a hoof pick. At any rate, you can just get the brush separately if that's all you need. There are two colorways available, namely black and turquoise.
9. Luxpets Horse Rubber Sweat Scraper.
A horse will go through quite a bit of a workout during a regular day, whether we're talking about pulling carts or training for a competition. Every horse owner will eventually need a good sweat scraper in order to remove excess moisture from the horse's coat. This is not a horse brush, mind you, as it was created specifically to wick moisture away from the skin and coat.
This offering by Luxpets features a comfortable silicone gel handle, as well as a soft rubber tip that removes sweat and water with efficiency. It's worth noting that the product was created using eco-friendly materials, at least in the sense that it won't hurt the horse or the human that wields it.
This horse sweat scraper comes in pink, and it has just the right size to go all around the body, even in hard-to-reach areas. You can use this product before a conventional grooming process with brushes and curry combs.
10. HandsOn Pet Grooming Gloves for Horses.
Normally I wouldn't recommend using universal brushes that work on both horses and dogs, but the HandsOn pet grooming gloves are an exception. This is a high-quality product that will allow you to gently groom and shed your horse without having to use brushes or curry combs.
Basically, you can just put these gloves on and start petting the horse all over its mane in order to remove excess hair and dirt. The flexible rubber nodules are nonabrasive, which means that they won't cause any damage to the animal's skin.
In order to clean up the hair and dirt that gathers in the grooves, just rub the gloved hands together and you're good for another go. These gloves can also be machine washed, and they're small enough to fit in your pocket or grooming kit.
Are synthetic bristles better than natural bristles?
There are three main types of bristles when it comes to horse brushes: natural, synthetic, or a mix of both. Deciding whether you should go for natural bristles or synthetic ones is not always easy, but let's see if we can clear things up.
Natural bristles have one clear advantage. They are softer and can disperse and distribute the hair's natural oils from the root to the tip. This creates that beautiful glossy finish that we love seeing on horse's coats. The sad part is that these brushes are generally more expensive. They do last much longer than synthetic ones, though.
Synthetic bristles are tougher, which means that they're better for untangling hair or for removing dirt from the horse's coat. These bristles are generally made from nylon, but they can also be plastic. These brushes don't last as much as their natural counterparts, as the bristles will snap off or just come out of the brush with repeated use.
Horse brushes that have a combination of synthetic and natural bristles will be able to clean up the horse's coat while adding a certain degree of sheen. They try to fit both roles, but they generally don't excel at either.
Should you go for a wooden handle or a plastic one?
As far as performance is concerned, I don't think a wooden horse brush is necessarily better than a plastic one. However, I have noticed that those with a wooden handle tend to be of superior quality in most cases. It's not a general rule, just more of an observation.
However, if you care for the environment, you might want to go for a wooden one. Horse brushes require constant replacement as the bristles wear out, so improperly disposing of them on a regular basis will increase your carbon footprint. If you don't care too much for this sort of thing, then there's no issue: just get the brush that works best for you and your horse.
Are curry combs better than horse brushes?
Curry combs have a unique design that allows them to remove any excess hair, scruff, and sweat from a horse's body. These tools will help you get rid of any shedding hair, but they're not very good at maintaining hair that is healthy and thriving. In that case, a brush will always do a better job.
While a horse brush will remove some shedding hair to some extent, it will never be able to perform as well as a curry comb in this regard. So to answer your question: neither of these grooming tools is better than the other. They just excel in different areas.
Could you use brushes for dogs and cats on a horse?
I wouldn't generally recommend using a brush designed for dogs or cats on a horse, mainly because these different animals have different skin types and different hair lengths. This means that a brush that works very well on a dog might actually be too rough for a horse or vice versa.
The only product that would work well with multiple animals is the SleekEZ at the top of the list, but that's because it was created specifically to tackle multiple types of fur and hair. As a general rule, you should own an entire horse grooming kit that includes a hard brush for dirt and loose hair, a medium brush, a sweat scraper, and a soft brush as a finisher.
Choose the right brush for the right activity.
If your horse is not particularly dirty and just needs a light touch-up, there's no point in using your roughest brush. Go for a lighter one that can tackle fine dust particles, and this way, you'll give the coat a nice shine. If the horse has been working all day and is dirty, give it the full treatment and use a hard brush before the finisher.
While most horse brushes were designed to be as gentle as possible to a horse's skin, I wouldn't risk using a hard brush on its coat if the situation doesn't require it. Always use the right brush for the right activity, and both you and your horse will be satisfied with the results.
Conclusion.
Finding the best horse brush that will do everything just right is not easy. However, some horse brushes will perform better in different areas. It all depends on what you need them to do. Putting together a great horse grooming kit is not particularly difficult or expensive. You just need to find the right tools for the job.
I hope that this article has helped you in your search for a great horse brush. If you have any suggestions, or if you would like me to add another product to the list, feel free to get in touch!