These Are the Best Horse Riding Boots in 2022
Horse riding boots or equestrian boots represent a very important part of your equestrian gear setup, mainly because they help improve your own safety as well as your horse's well-being. There are many different types of riding boots out there, in different designs and made out of different materials. The important thing is to buy the type of boot that's best suited for your environment and the type of activity you're about to perform with your horse.
Some horse riding boots are better for eventing, others for dressage, and others for casual riding. It's important to know which boot is good for which activity, as choosing the wrong type could have a negative impact on your experience.
But why do we need horse riding boots? Can't we just wear regular knee-high boots and be done with it? Well, horse riding boots were designed specifically for horse riding. Therefore, they have a series of defining characteristics:
A heel that's about one inch high, and which prevents the rider's foot from sliding through the stirrup.
A reinforced toe area for extra protection.
A smooth sole that prevents the rider's foot from getting caught in the stirrup in the unfortunate event of a fall.
A knee-high design that protects the wearer's leg from saddle pinching.
These are the main defining characteristics of horse riding boots. There are exceptions to these rules, such as the jodhpur boots, but we'll talk about those a bit later. Below you will find a comprehensive list of some of the best horse riding boots you can get this year. The list includes tall boots, short horse riding boots, as well as boots made out of leather or synthetic materials.
Some of them are more breathable, others are waterproof for riding in the rain. Moreover, the list includes both riding boots for men and equestrian boots for women. Surely, if you'll keep on reading, you'll find something that suits your own tastes and needs.
Horse riding boots for women.
1. TuffRider Ladies Belmont Dress Boots.
We'll start off the list with a beautiful pair of horse riding boots for women, namely the Ladies Belmont Dres Boots by TuffRider. These boots are 6 inches high and 16 inches wide, so take that into account before placing your order.
They were created using leather, which means that they might need a bit of break-in time. They have a rear zipper and an elastic gusset, as well as a contoured ankle area. The toe cap is plain but ensures adequate protection levels for beginner to intermediate horse riders. The outsole was put together using rubber, which is pretty much the de-facto material in the segment.
An interesting addition to these women's horse riding boots is the memory foam footbed, which ensures plenty of comfort by remembering the contour of the wearer's foot. These boots come only in black, but they are available in several different sizes and types such as slim, regular, wide, and X-slim.
2. TuffRider Women's Starter Back Zip Field Boots.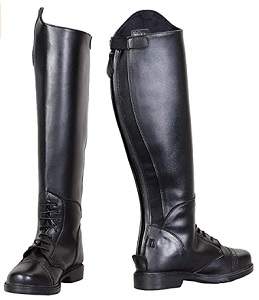 Yet another offering from TuffRider, these equestrian boots offer a bit more flexibility thanks to a slip-on closure design. Moreover, these boots were made out of 100% synthetic leather, so they could be considered vegan horse riding boots.
They are 4.5 inches high and 13.5 inches wide, and they offer complete resistance against water and moisture. They are also quite flexible, so they should fit you nicely provided you find the right fit. Just like before, these are also available exclusively in black. Size range from 6 to 11.
Apparently, they run a bit small and generally work best for women with a relatively thin calf.
3. HORZE Rover Field Tall Boots.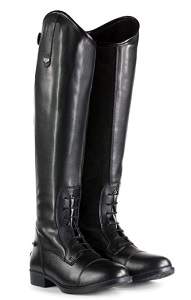 We're moving on to the Horze Rover Field Tall Boots – a beautiful and reliable pair with a slip-on closure and a rear zipper for improved versatility. These are comfortable once broken in, but keep in mind that they're quite tall, which comes with its own set of challenges.
The boot is able to ensure plenty of protection due to its tall design, but it also might take a bit of getting used to. Moreover, getting the calf size just right is very important for these types of boots. Highlights of the Horze Rover include a set of elastic front laces, as well as a suede-like inner leg for extra comfort.
Size range from 6 to 10, and there are a few wide versions available for size 9.5 and 10. Considering their affordable price tag, these are some very impressive entry-level equestrian boots.
4.Tommy Hilfiger Women's Shano-Wc Wide Calf.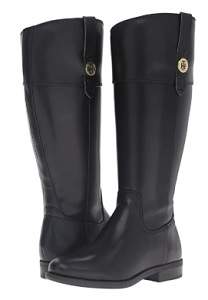 Tommy Hilfiger is a well-known brand in the budget segment, and their horse riding boot alternatives are definitely worth a look. If you're a beginner, you might want to take a closer look at these boots, as they offer quite a bit of performance and comfort at a low price point.
Keep in mind that these are Wide Calf boots. They won't fit you right if you have slim calves, but they will ensure plenty of calf space if you have larger ones.
According to the manufacturer, these boots were created entirely by hand, they have a full zip closure on the inside. They also have rubber soles, which should ensure plenty of traction on the trail. As for the heel, it measures about 1 inch – a standard size for horse riding boots. The shaft measures about 15 inches from the arch and the boot opening has a diameter of 17.5 inches.
Size range from 5.5 to 11, and there's only a single black colorway available. These are cheap yet reliable horse riding boots that should prove ideal if you're just starting up. Just make sure you get that calf size right.
5. Horze Ladies' Wexford Front Zip Paddock Boots.
Paddock boots can also work very well for horse riding. Some might say that they're better than those that go up the calf because they're more comfortable and easier to wear. Granted, they offer no protection for the shin and knee, but it's definitely easier to find the right size, and they will prevent your foot from sliding through the stirrup either way.
This offering by Horze comes with a YKK zipper, a rubber outsole, and durable faux leather elements on the upper. There's also a front zipper for easy on and off. The boots run very true to size, and yet they offer enough space for a boot sock without any issues.
Overall, these are probably some of the best horse riding boots for women you can get if you're a beginner. They're not particularly pretentious but they will get the job done without any issues, and they won't let you down when you need them most.
Horse riding boots for men.
1. Hispar Stirling Dress Dressage Boots For Men.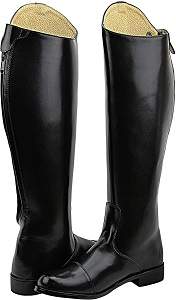 The men's horse riding boots offerings start off with a pair by Hispar. These are dress dressage boots, which means that they're a bit more elegant and a bit more pretentious than your average equestrian footwear.
These are created entirely by hand using genuine leather, and they boast a rubber outsole with anti-skid treads. Furthermore, the inner leather liner features an extra moisture-wicking sock liner, which is meant to keep everything dry and comfortable. There's also a full-length zipper at the back.
The main issue with this type of horse riding boot is the upper calf area, which can be rather tricky to get right. Your best bet is to measure your calf and purchase the appropriate boot size. Fortunately, this pair comes in different sizes and calf sizes, including regular calf, slim calf, wide calf, and plus calf.
2. TuffRider Men's Baroque Field Boots.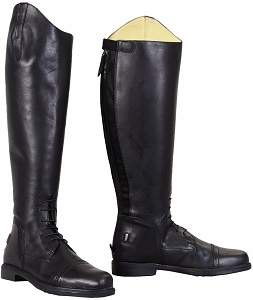 Yet another leather equestrian boot for men, the Tuff Rider Baroque Field boots represent a decent alternative for both beginner and intermediate horse riders. One of the most interesting features about this boot is the Spanish cut toe, which definitely gives it a more masculine look.
There are two different shapes available for this TuffRider, namely regular and wide. As for sizing, they usually start off at 8 and go up to 13. Other highlights include a contoured ankle, an elastic gusset, and elastic laces. Decently comfortable, and decently priced, this pair of boots will serve you well as long as you don't expect competition-type performance.
3. TuffRider Grippy Grain Half Chaps.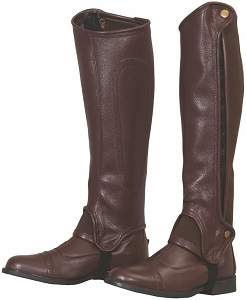 TuffRider is a well-known brand when it comes to equestrian apparel, and their boots are definitely worthy of a closer look if you're looking to buy an affordable pair that won't disappoint right out of the box. When it comes to budget-friendly equestrian boots, there are many products out there that will come apart a few days or weeks after being worn.
That's not the case with the Grippy Grain half chaps, as these are some of the toughest boots I've ever seen for the price. They were created using easy-care synthetic suede, which is apparently machine washable. For a very affordable price tag, you get a Spanish top profile, a reinforced inner kneed patch, as well as a snap closure ad the top and bottom.
Available colorways include black and brown, and sizes range from X-Small to X-Large. This is where the sizing chart above will come in handy.
4. TuffRider Men's Baroque Paddock Boots.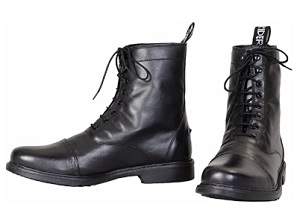 If you're looking for a more conservative and casual design, the TuffRider Baroque laced paddock boots are definitely something to keep an eye out for. These 100% leather boots are 5-inches high, which means that they basically only go slightly above your ankle. If you're into light riding or general barn work, these will definitely meet and surpass your expectation.
The boots are 11.25 inches wide, and they are completely resistant to water and moisture. They come with spur rests that will help you avoid a bouncing spur, and with a lace-up front that ensures a snug fit with each wear.
There are two colorways available, namely black and mocha, while sizes start off at 8 and go all the way up to 13.
5. Brogini Adults Casperia V2 Riding Boots.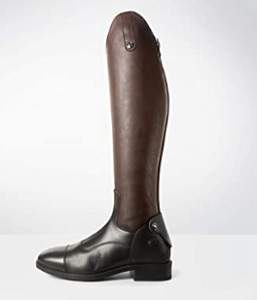 We're going to end this list with a relatively premium offering. I'm talking about the Brogini Adults Casperia V2 Riding Boots, which are available in black and brown. These equestrian boots for men come with a leather sole, and with a genuine leather foot complemented by a synthetic leather calf.
An interesting combination of natural leather and faux leather that actually works very well. The foot, which gets the most wear is natural leather, while the upper part of the boot is synthetic leather. Apparently, the synthetic part has a 3D stretch system that conforms to the contour of the wearer's leg. This way, you'll get a perfect fit every time.
As for the heel area, it boasts a pair of rubber spur studs while the bottom of the zip has a special spur guard that can be activated at the touch of a button.
A few things to keep in mind while looking for equestrian boots.
What kind of discipline are you performing? Some boots were created for specific equestrian disciplines. These include trail riding, pleasure riding, endurance racing, or dressage. Choose the right boot for the right type of activity in order to achieve the best results.
Keep an eye out for safety features. Like I mentioned above, safety is of the utmost importance when it comes to equestrian boots. Make sure that the boot has a distinct heel, which will prevent your feet from sliding through the stirrups.
Material choice is also important. Depending on the manufacturer, some boots are made out of genuine leather, while others were created using synthetic leather or even rubber. If you're about to ride through muddy terrain or in a snowy environment, consider going for a waterproof boot or even an insulated one for added warmth. If you're riding in very hot weather, go for something breathable and comfortable.
Have a good look at pricing. It might be tempting to just go for the cheapest equestrian boot that you can find, but that's something that I would caution you to avoid. Cutting too many corners in the manufacturing process will eventually lead to a subpar boot, which will come apart when you expect it least. A decent pair of horse riding boots usually costs $200 or more, as even the $100 offerings are usually considered budget-orientated. While some sub $100 boots will get the job done, don't expect them to last for years.
Can I wear regular shoes while horseback riding?
You shouldn't wear casual shoes or tennis shoes while horseback riding because those types of footwear don't have the required safety features. Not wearing the right types of shoes while riding a horse could lead to serious injury.
Therefore, I'd recommend going for a cheap pair of equestrian boots and wearing those instead of wearing your regular shoes. Not only would you risk hurting yourself but your foot might slip and you might end up kicking your horse by accident. Just wear proper boots and you'll be fine. If you don't want to wear long ones, a decent pair of paddock boots will get the job done nicely as well.
Conclusion.
Horse riding boots are important. They keep you safe while also ensuring much-needed comfort. It can be tricky to find the right size and the right style, but with a bit of research and know-how, you can definitely find the perfect pair. I hope that my guide has helped you in this endeavor.
If you have any suggestions, or if you'd like to share from your own experiences, feel free to get in touch!