Racehorse Altior in critical condition due to colic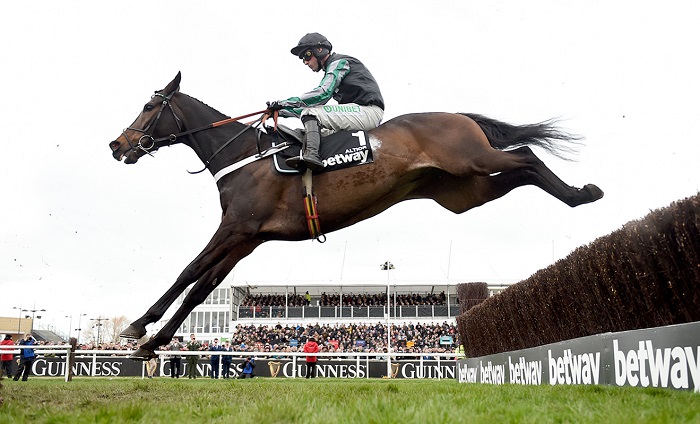 According to The Sun, Altior, a highly successful racehorse, is currently in critical condition. The horse, who is trained by Nicky Henderson and owned by Patricia Pugh, has a history of leg issues and has been suffering from a severe bout of colic, which is a condition that affects the gastrointestinal tract of horses.
Altior has had a successful career on the racecourse, winning multiple Grade 1 races, including the Queen Mother Champion Chase at the Cheltenham Festival in 2018 and 2019. He holds the record for the most consecutive wins over fences in National Hunt racing with 18.
Unfortunately, Altior's current condition is causing concern for his well-being, and it could seriously impact his ability to maintain a healthy lifestyle through training and work. Colic can be a serious condition in horses, and treatment often involves surgery. The prognosis for Altior's recovery is currently unknown, and updates on his condition will be provided as they become available.
These recent developments are sad news for the horse racing industry as Altior is considered one of the greatest horses in recent history. Many fans and industry experts are wishing for his speedy recovery, and the horse racing community is keeping a close eye on Altior's progress and hoping for the best outcome.
More information about Altior
Altior is a racehorse that has made a name for himself in the world of horse racing. He is known for his impressive performances on the track, as well as his longevity and consistency.
Aged 11 at the time of writing, Altior has had a long and successful career. He has won numerous races, including the Queen Mother Champion Chase at the Cheltenham Festival twice in a row, and the Tingle Creek Chase at Sandown Park. He also holds the record for the most consecutive wins over fences in jump racing history, with 19 wins in a row.
Altior is trained by Nicky Henderson, who has been responsible for his development and success. Henderson is a highly respected trainer in the horse racing industry and has been training horses for over 40 years. Altior was bred by Robert Waley-Cohen, who owns the horse. He was sired by High Chaparral and out of a mare named La Negligence. He was foaled in Ireland in 2010, he eventually entered the ownership of Patricia Pugh and was sent into training with Nicky Henderson at Upper Lambourn in Berkshire.
According to horseandhound.co.uk, Altior retired from horse racing in 2021, as his owners Christopher and Patricia Pugh wanted him to exit the sport while he was still at his peak.
More information about colic in horses
Colic in horses is a common condition that refers to abdominal pain. It can be caused by a variety of factors, including gas, impaction, or displacement of the intestinal tract. It can also be caused by more serious conditions such as infection or tumors.
Symptoms of colic include restlessness, rolling, pawing at the ground, sweating, and an inability to eat or drink. A horse may also have an elevated heart rate and temperature, as well as signs of abdominal discomfort such as kicking at the belly or lying down for prolonged periods.
Treatment options for colic vary depending on the underlying cause of the condition. Mild cases may be treated with pain medication and a change in diet, while more serious cases may require surgery. The cost of treatment can range from a few hundred dollars for mild cases to several thousand dollars for more serious cases that require surgery.
Colic can have a significant impact on a horse's quality of life. In severe cases, it can be life-threatening. This is particularly true for racehorses, as colic can affect their ability to perform. Well-known racehorses that have been affected by colic in the past include the famous racehorse Secretariat, who died from complications related to colic surgery.
In conclusion, colic is a common condition that can affect horses of all ages, and it can have serious consequences on their health and performance. It's important for horse owners to be aware of the signs and symptoms of colic and to seek prompt veterinary care if they suspect their horse may be suffering from the condition. Additionally, taking preventative measures such as regular veterinary check-ups, good nutrition and exercise, and good management practices can help reduce the risk of colic.