Army veteran taps into her connection with horses to heal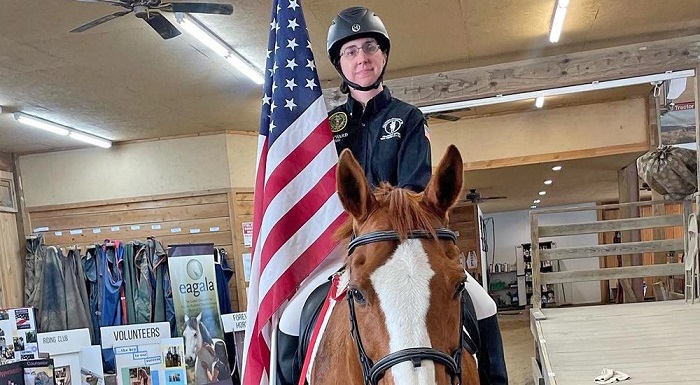 It's common knowledge that horses were used extensively during wars in humanity's previous ages, but fortunately, we're far removed from such barbarous acts in our modern days. These days, horses can be a force for healing, especially for army veterans such as Seyward McKinney, who served in Iraq as a surgical technician, helping combatants from both sides.
One of her most prominent patients was Saddam Hussein, who was working out in his jail cell and pulled some muscles, requiring a hernia intervention from Seyward McKinney herself. Unfortunately, Seyward had her own health issues to deal with later in her life, including a twisted mass of blood vessels connecting McKinney's arteries and veins that were disrupting normal blood flow.
She went through five surgeries, three related procedures, and two radiation treatments, and just when she thought the worse was behind her, she suffered a stroke.
Getting in touch with horses
While she was recovering at the Walter Reed Army National Military Medical Center, Seyward was introduced to horses and to a non-profit in Boones Mill, Virginia named Healing Strides. This organization offers equestrian therapy sessions for veterans and other people. They work with licensed clinical social workers and mental health professionals along with professional trainers to teach veterans how to ride.
According to Ricki McKinney, Seyward's mother, Seyward travels to Healing Strides three times a week supported by the Wounded Warrior Independence Program. During an interview with news.va.gov, she highlighted the benefits of working with horses and spending some time with them, particularly in the context of stress relief and PTSD management. She also mentioned that working with horses can help veterans emotionally but also physically as riding builds core strength as well as leg strength. Moreover, McKinney mentioned to the same publication that spending time with other veterans was also a big help.
Talking to horses can also help
McKinney shared a story about a fellow veteran who was having a hard time after he left the Army. He was contemplating ending his life but changed his mind after he spent some time actually talking to horses. It's not uncommon for people who are under a great deal of stress to find relief by having a conversation (albeit a one-sided one) with an equine.
Carol Young, the CEO of Healing Strides, has plenty of stories to share about veterans who have left the program better than when they arrived. One particular story stood out, about a veteran who had done six tours in Afghanistan. While he didn't know exactly what to do to get better at first, he started off by driving a tractor and mowing the fields before moving on to actually interacting with horses.
Eventually, he brought his 11-year-old daughter to the grounds as well and was able to build trust with her and improve their relationship just by being around horses together.
As for McKinney, there's no doubt that horses have opened up a new outlet for her well-being and helped her discover her goal to be a Paralympic Equestrian athlete. She's already been involved in several shows and competitions and said she is working with trainers on a long-term Paralympic plan.