Przewalski's horse clone foaled at San Diego Zoo using 42-year-old DNA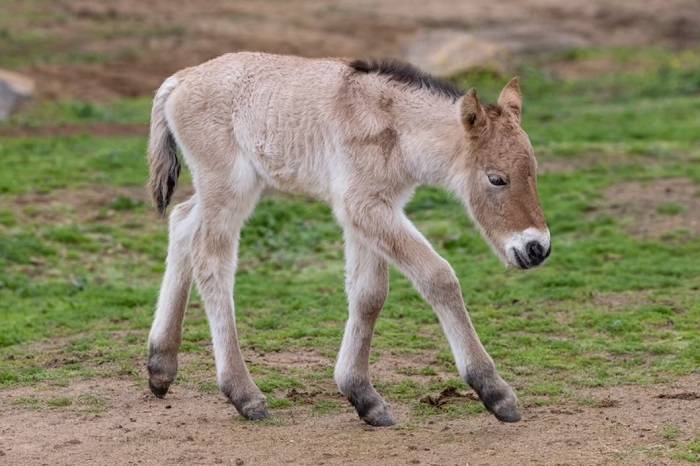 A healthy male Przewalski's horse clone was foaled at the San Diego Zoo by a surrogate domestic Quarter Horse. The foal was named Kurt, and he is actually the clone of a male Przewalski's stallion whose DNA was frozen 42 years ago. Just in case you're not too familiar with the subject of Przewalski's horse, this horse breed is critically endangered, which means that Kurt is a shining beacon of hope for the breed and for the conservation efforts of experts and equestrians. Kurt is named after former zoo board member Kurt Benirschke, MD, who died in 2018 at the age of 94.
According to wildlife care director Kristi Burtis cited by abc.net.au, the birth was a "tremendous moment" considering the fact that Przewalski's horse was considered extinct in the wild until 1994. Also known as the  Mongolian wild horse or the takhi, this horse breed is shorter than most horses and features a series of distinctive, almost zebra-like markings.
According to SDZWA, almost all surviving Przewalski's horses are related to 12 animals born in native habitats. Several herds in China and Mongolia have been established to try to maintain genetic variation.
More information about Przewalski's horse
Przewalski's horse, also known as the Mongolian wild horse, is a unique and fascinating horse breed. First discovered by the Western world in 1881 by Polish explorer Nikolai Przhevalsky, this horse is native to the steppes of Central Asia and is considered to be the last truly wild horse in the world. It is believed that there were once thousands of Przewalski's horses roaming the grasslands of Asia, but by the late 1960s, the breed had been driven to extinction in the wild due to habitat loss, hunting, and interbreeding with domestic horses.
Thankfully, a small number of Przewalski's horses had been captured and kept in captivity, and conservation efforts have been successful in bringing the breed back from the brink. Today, there are over 1,500 individuals in captive breeding programs around the world, and reintroduction efforts have seen small herds of Przewalski's horses re-established in their native Mongolia and China.
One of the most striking characteristics of Przewalski's horses is their appearance. They are small, stocky horses with a distinctive "dun" coloration, characterized by a light tan or cream coat with darker legs, mane, and tail. They also have a thick, sturdy build, with a short, broad head, and large, expressive eyes.
Przewalski's horses are also known for their fierce independence and wild behavior. They are not easily tamed, and even in captivity, they tend to be more aggressive and less docile than domestic horses. This is a reflection of their history as a truly wild animal that has never been domesticated.
Despite the challenges of preserving this unique and special breed, the efforts to conserve Przewalski's horse have been successful and the future of the species looks much brighter than it did a few decades ago. These horses are a symbol of conservation success and a reminder of the importance of protecting and preserving wild animals and their habitats.
At HorseyCounsel, we've included Przewalski's horse in our list of the oldest horse breeds in the world. If you're interested in this subject as well, make sure to read up on it right here.